Colour Scanning
Colour Scanning
GEOMA has large format colour scanning capabilities at our office. Our Contex G600 colour scanner produces high quality scans of any type of document up to 42" in width and up to 1.5" in thickness. We provide scan-to-print and scan-to-file services.
Scan-to-Print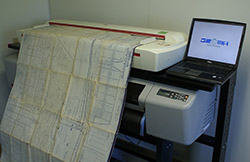 This service involves the scanning and re-printing of documents. The re-printing of documents can be in colour, grey scale or black and white. We have the capabilities to shrink or expand the document to any desired size up to 42" in width.
Scan-to-File
Our scan-to-file services are perfect for any digital archiving for preservation projects. Scan-to-file is the duplication of paper (hard-copy) documents into any digital (soft-copy) format requested. Size, quality and colour options enable your documents to be digitally archived to any desired specification. Blueprints, maps and other documents scanned can be georeferenced and prepared for use with a GIS or other applications.