Training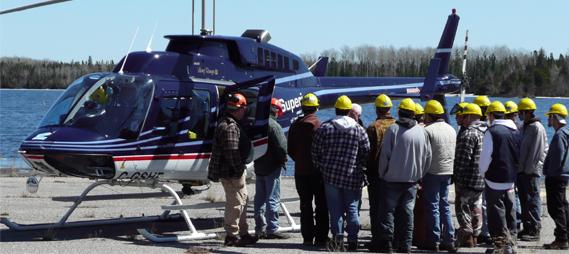 SP100 Forest Fire Fighter Training Dates for 2024 - $1157.12 (incl HST)
Sault Ste. Marie, location to be announced -  March 29 - April 2
Greenstone, Geraldton Community Forest Inc. -  May 27 to May 31
Email your interest to Donna at donna.pelletier@gcfi.net or call 807-854-2335 ext 0
2024 SP100 Application Form
SP100 Training Outline
SP-100 Forest Fire Fighter Re-certification
Anyone possessing an SP-100 certificate that was not on a fire the previous season is required to be re-certified before they are allowed to fight fires again. Our instructors have extensive experience in forest fire fighting and are accredited by the OMNR. SP-100 re-certification is a one day course emphasizing the practical aspects of fire suppression.
First Aid
Geraldton Community Forest has St. John Ambulance certified instructors that deliver any of the currently offered St. John Ambulance first aid courses. The courses are offered on a as need basis, can be run anytime during the year and require a minimum enrolement of 10 people
GPS

This easy-to-understand one day course provides a basic introduction to the use of a Global Positioning System (GPS) unit. The course involves presentations and hands-on field exercises. Learn what a GPS can do to help you stay safe, understand the meaning of some basic GPS & digital map terms (e.g. waypoint, track, route, goto).
Professional Chainsaw Operation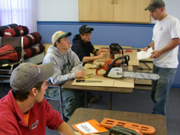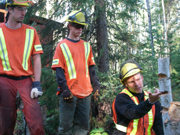 This comprehensive training course deals with the safe and efficient operation of a chainsaw. This course is intended for professional cutters in logging operations. Individual elements and modules of the curriculum have been added to train those who are not employed in logging operations, but who are occasional cutters. At the end of the course, successful participants will have the necessary information and pre-experience training to start building their skills through supervised practice and work experience in a variety of areas.
WHMIS
Workplace Hazardous Materials Information System (WHMIS) is Canada's National hazard communication standard. The key elements provided in the WHMIS training course are understanding the cautionary labelling of containers of WHMIS "controlled products", the correct use of material safety data sheets (MSDSs) and educating workers on safety in the workplace when chemicals are present. A WHMIS certificate is valid for 3 years but annual maintenance is required for specific jobs such as fire fighting. WHMIS is not transferable between employers which means that re-certification is required at each new place of employment.
TDG
Transportation of Dangerous Goods (TDG) training makes the participant aware of the regulations that promote public safety when dangerous goods are being handled, offered for transport or transported. The regulations provide a means of communicating the nature and level of danger associated with chemicals. A TDG certificate is valid for 3 years. According to the TDG Regulations, a TDG certificate is not transferable between employers, therefore re-certification is required.
WDHP
Workplace Discrimination and Harassment Prevention (WDHP) training emphasises a positive and respectful work environment.
Bear Awareness
Bear-human conflicts are a common issue in many communities of Northern Ontario. As communities grow and human populations encroach on bear habitat, interactions and conflicts between bears and people become more common. Now more than ever, bear awareness education is crucial for ensuring safety for bears, residents and visitors to Northern Ontario.
Pre-Commercial Thinning
GCF has held training for individuals interested in pre-commercial thinning. Training consists of safe operating procedures of the brush saw, proper spacing and various related topics.