Fish Finder Maps

Fish Finder Maps are a series of depth maps for lakes in Northern Ontario. GEOMA's database includes lake depth data for hundreds of lakes, acquired from the MNR though a data licence agreement. The Fish Finder Maps include a location map showing roads, water bodies and other features in the vicinity of the lake, an inset map showing the location of the lake in Northwestern Ontario, and lake characteristics such as depth, surface area and fish species.
The Fish Finder Map Series currently features 55 lakes which are available in stores throughout Northwestern Ontario.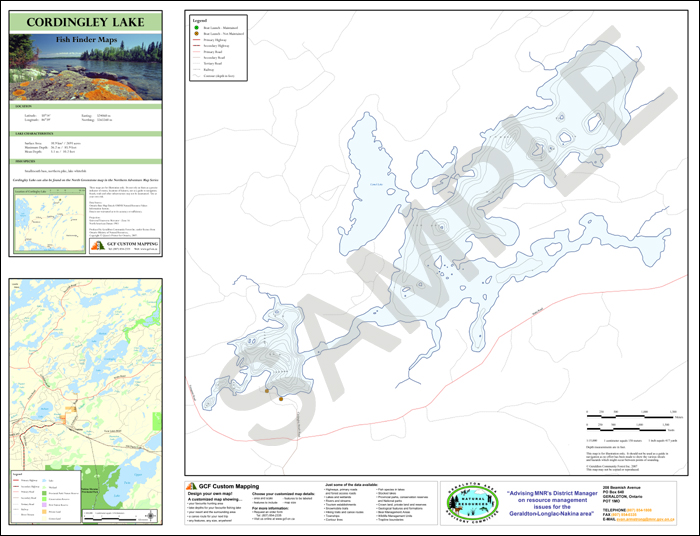 The maps that are currently available for purchase are listed below:
Open a map showing lake locations.
Abamasagi Lake
Abazotikichuan Lake
Ara Lake
Atigogama Lake
Barbara Lake
Burrows Lake
Cammack Lake
Chipman Lake
Chorus Lake
Club Lake
Cordingley Lake
Flint Lake
Gathering Lake
Gamsby Lake
Goldfield Lake
Hob & Middleton Lakes
Icicle Lake
Ida Lake
Jemar Lake

Jobrin Lake
Jungfrau Lake
Kagianagami Lake
Kapikotongwa Lake
Kawakanika Lake
Kayedon & Ogoki Lakes
Kellow Lake
Kenogamisis Lake
Klotz Lake
Lake Jean
Long Lake North
Long Lake South
Lucy Lake
Lukinto Lake
Margo Lake
Marshall Lake
McKay Lake
McLeod Lake
Muskrat Lake

North Wind Lake
O'Sullivan Lake
Onaman Lake
Paint Lake
Parks Lake
Partridge Lake
Pasha Lake
Percy Lake
Roslyn & Upper Roslyn Lakes
Samuelson Lake
Seagram Lake
Shacabac Lake
Squaw Lake
Tricorn Lake
Upper & Lower Twin Lakes
Whitefish Lake
Whitesand Lake
Wildgoose Lake
Wintering Lake
The lakes listed are mainly in the Geraldton, Longlac and Nakina area, but GEOMA can produce Fish Finder Maps for other lakes too!
Contact us to inquire about additional lakes.
Features




Lake Information:

Location
Lake Characteristics
Fish Species

Location Inset:

Roads
Lakes and Rivers
Wetlands
Land Ownership
Parks




Specifications:

24.5"x 32" or 34.5"x 38"
Folded to 8" x 12.5"
Water-resistant ink



Retailers



Fish Finder Maps are currently available from a variety of retailers.

Retailers interetested in selling
Fish Finder Maps may contact:
(807) 854-2335 or info@geoma.ca.