Northern Adventure Map Series

The Northern Adventure Map Series™ consists of 42 maps covering Northern Ontario from the east shore of Lake Nipigon to the Quebec border. This map series was created by GEOMA in response to public demand for up-to-date maps of the area. The maps feature data such as roads, lakes, wetlands, rivers and utility lines, as well as Wildlife Management Units, parks, resort locations, snowmobile trails, and the fish species present in each lake. Data was acquired through GEOMA's data licence with the Ontario Ministry of Natural Resources (MNR).
The Northern Adventure Maps are available in stores throughout Northern Ontario. These maps are printed on high quality paper with water-resistant inks to produce a superior quality map.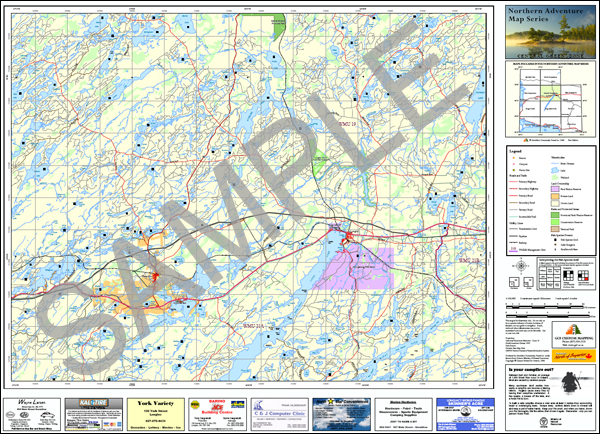 Map Titles in the Northern Adventure Map Series
GEOMA has expanded the map series east to the Quebec border
Features

Roads
Lakes and rivers
Wetlands
Land ownership
Parks and reserves
Snowmobile trails
Wildlife Management Units
Resorts and Outposts
Fish species in lakes

Specifications:

1:100,000 scale
37" x 27"
Folded to 6.5"x 9"
High quality paper
Water-resistant inks

Where to Buy

Click on a town to find Northern Adventure Maps Series retailers:




Northern Adventure Maps
are also available from GEOMA:
Email: info@geoma.ca
Phone: 807-854-2335


Contact GEOMA if you are a retailer
interested in selling maps.